Santiago Island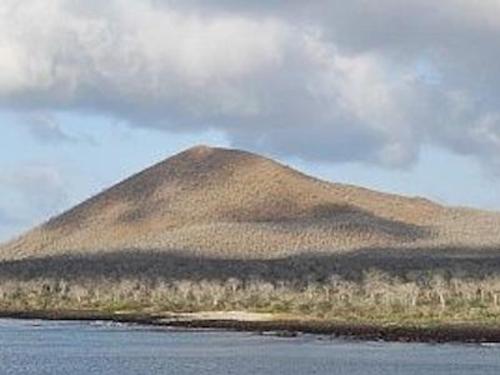 Consisting of two overlapping volcanoes, Santiago's lava shoreline is home to an excellent variety of wildlife, including the Galapagos hawk, marine iguanas and fur sea lions. The snorkeling here is wonderful, with a huge variety of tropical fish, as well as playful sea lions.
Bartolomé Island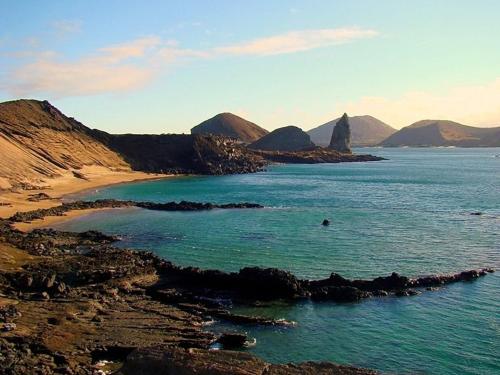 One of the younger islands, Bartolomé has an area of just 1.2 km². The climb to its peak offers the visitor one of the most spectacular and iconic views of the archipelago. The underwater world around Pinnacle Rock is impressive, and Galapagos penguins are often seen there.
Rábida Island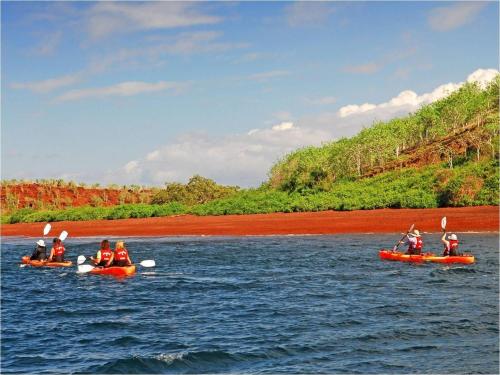 Rábida's landscape is studded with small volcanic craters along sharp slopes and cliffs. Red sand beaches and a saltwater lagoon inhabited by flamingos are the main attractions here. This is one of the best kayaking sites in the archipelago.
Isabela Island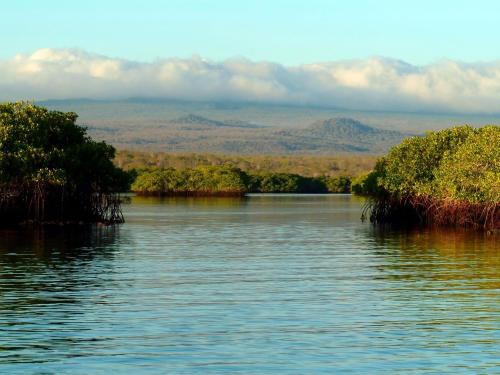 Isabela was formed by five independent volcanoes that came together to form what is now the largest of the islands. Thanks to its topography, it is home to several different subspecies of giant tortoise. The northwestern coast of the island is a sanctuary for whales, while blue-footed boobies perch on the cliffs and Galapagos penguins cavort in the waves.
Fernandina Island
Fernandina is the youngest and one of the most pristine islands in the Galapagos. It is home to the unique flightless cormorant and the prehistoric marine iguana, which thrives in the harsh landscape of lava fields. The colossal shield of Fernandina volcano reaches 1,494m in height and is still active.
Española Island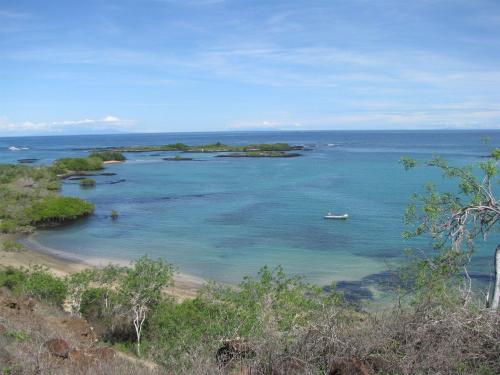 Due to its isolation from the other islands, Española has a high proportion of unique endemic fauna. 12,000 pairs of waved albatrosses nest here from March to December, and their mating dance is one of the most spectacular in the animal world. Blue-footed boobies and Nazca boobies are also prolific on the island, while sea lions frolicking on the white sandy beach are a common sight.
Santa Cruz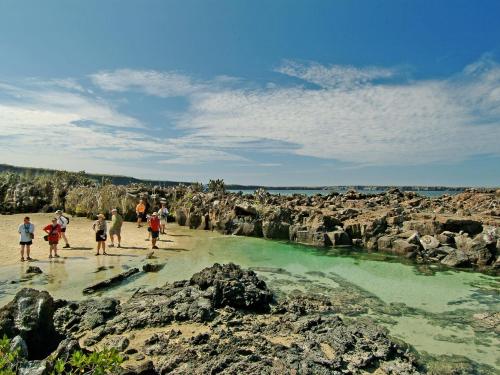 Colonized since the 1920's, Santa Cruz is the most populated island in the archipelago. A visit to the Charles Darwin Research Station educates visitors on the efforts of scientists, guides and park managers to preserve the islands as a UNESCO World Heritage Site. The lush highlands of Santa Cruz are inhabited by the iconic giant tortoises.
Floreana Island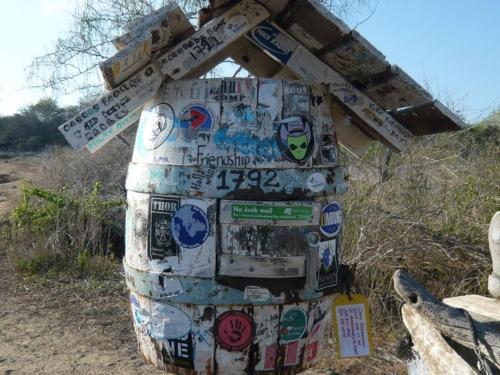 Home to early settlers in the islands, Floreana has a unique "post office" inspired by 18th century pirates and buccaneers who used a wooden barrel as an unofficial mailbox. The tradition continues today as visitors leave addressed postcards in the barrel and sort through left mail to deliver at home. The Baroness' Viewing Point is the ideal place to take in the unique scenery that defines Floreana.
Mosquera Islet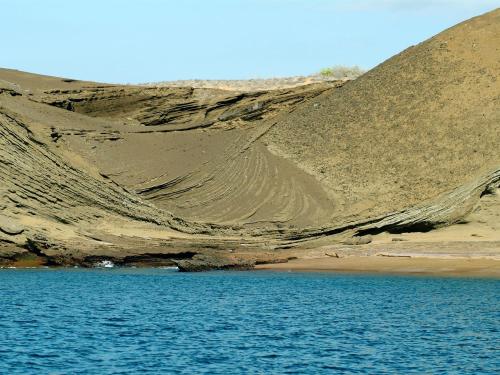 In addition to a variety of shorebirds, this tiny islet is home to an enormous population of sea lions, one of the largest colonies in the Galapagos archipelago. As a result, there are occasional reports of orca sightings in this area.
Santa Fe Island
Santa Fe's vegetation is characterized by palo santo trees and opuntia cacti, which attract the endemic Barrington land iguana. Weathered cliffs provide a haven for swallow-tailed gulls, red-billed tropicbirds, shearwaters, petrels and lava lizards.
San Cristobal Island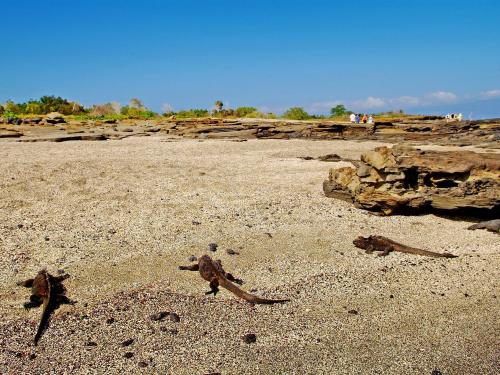 San Cristobal is one of the oldest islands in the Galapagos, with eroded volcanic peaks in the north and densely vegetated slopes in the south. Despite its human population, San Cristobal's wonderful beaches are inhabited by large populations of sea lions, and the island is home to colonies of frigatebirds and blue and red-footed boobies. Don't miss Leon Dormido, a 500 ft rock formation rising straight up from the ocean.
Genovesa Island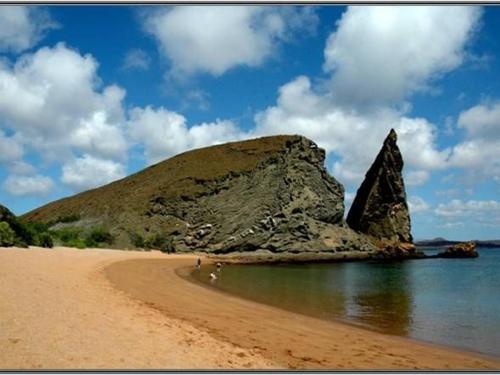 This island is known as Bird Island, thanks to its enormous quantity and diversity of birds. Prince Phillip's Steps lead visitors up to an extraordinary lava field that is home to huge bird colonies, including red-footed boobies, Nazca boobies, swallow-tailed gulls, storm petrels and Darwin finches. Genovesa is also renowned for its wonderful snorkeling, since there is a chance of seeing hammerhead sharks.
North Seymour Island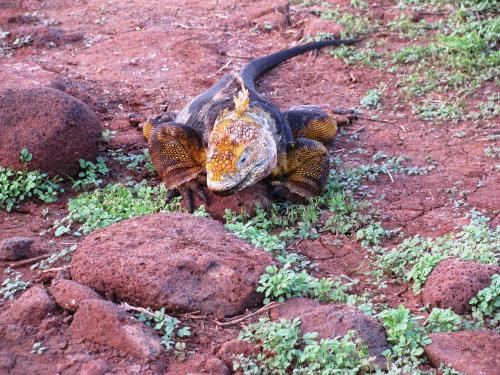 Created by a seismic uplift, this island has a flat profile, with cliffs only a few meters high, where swallow-tailed gulls and tropicbirds perch on ledges. North Seymour is an extraordinary place for breeding birds, and it is home to one of the largest populations of nesting blue-footed boobies and magnificent frigatebirds.
South Plaza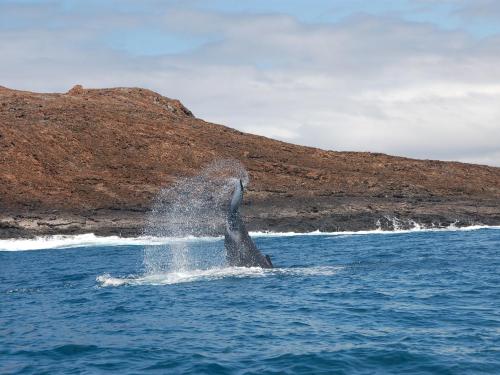 Despite its small size, this island is home to a large number of species and it is famous for its extraordinary flora, including the opuntia cactus. In addition to wonderful views from its steep banks, there are large numbers of nesting birds and land iguanas. Depending on the season, the ground vegetation varies in color from intense green to orange and purple.