Passengers appreciate the "non-cruise" atmosphere aboard Celebrity Xperience: informal and unregimented with a warm sense of camaraderie. While you might like to change out of your beach clothes for dinner, you won't need a wardrobe any dressier than "smart casual" wear.
Indoor Dining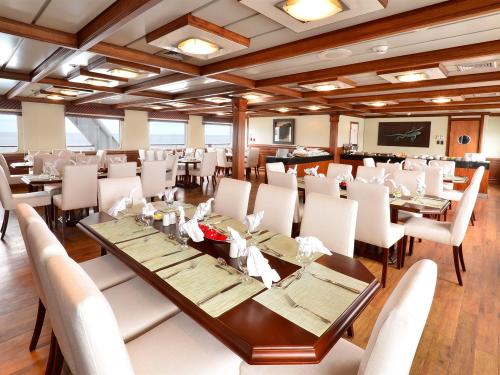 Celebrity Xperience's chic indoor dining area features panoramic windows, and all guests can be accommodated in one sitting. Our cuisine is a blend of international and local flavors, freshly prepared and served buffet-style. Whether it is a hearty breakfast, a themed lunch or a delicious dinner, guests can enjoy quality meals combined with efficient service and outstanding views.
Al Fresco Dining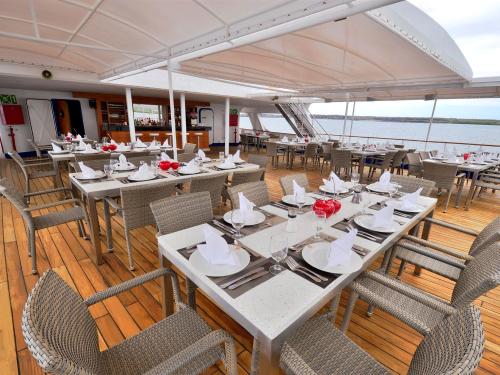 Celebrity Xperience is the only mid-size vessel in the Galapagos that serves a large proportion of its meals outside. Located at the stern of the ship, our al fresco dining area means that guests can savor a scrumptious meal with the islands' stunning scenery as a backdrop. The al fresco area also features a bar, which is open at lunchtime and in the evening.
Lounge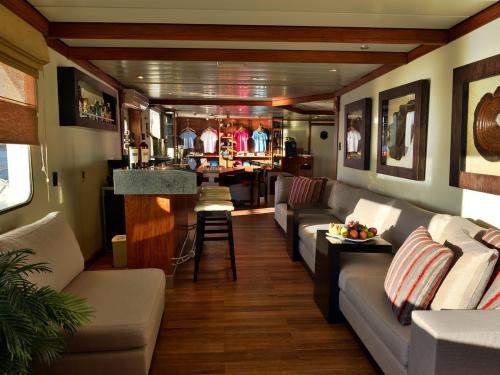 The main lounge provides a relaxed atmosphere for socializing, watching documentaries or sipping a cocktail at the lounge bar. There is comfortable seating, perfect for the nightly briefings and lectures given by our naturalist guides who bring this complex region to life and illuminate your time in the Galapagos.
Sun Deck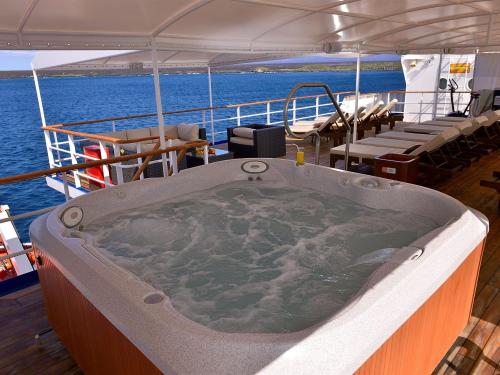 One of the most popular areas on board is the Sun Deck, ideal for stargazing, soaking in the Jacuzzi, or relaxing in the comfortable sun loungers. In addition to shaded seating areas and exercise machines, the best seats in the house for wildlife viewing are found at the observation point - an excellent spot for whale and dolphin sightings.
Reception and Boutique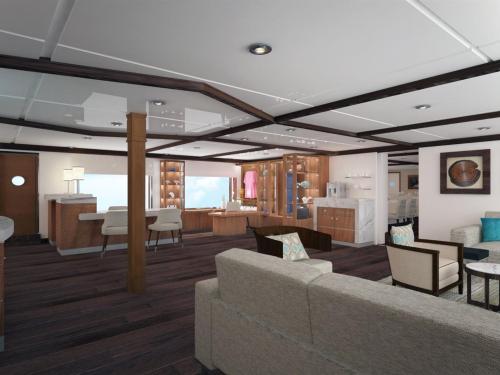 The reception area is the heart of Celebrity Xperience, with information on daily activities and anything else guests may require. Our boutique carries a selection of T-shirts, jewelry, books and Celebrity Xperience apparel, as well as toiletries and other convenience items.
Library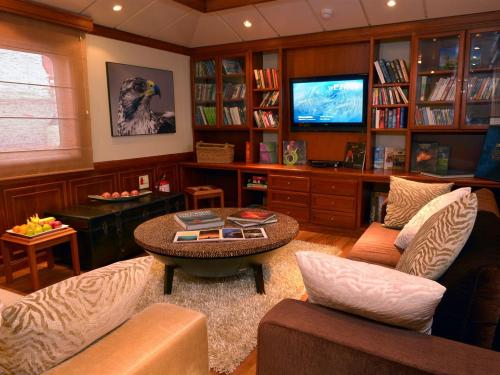 Our well-stocked library is a quiet place to catch up on some reading, play a board game or watch a documentary.